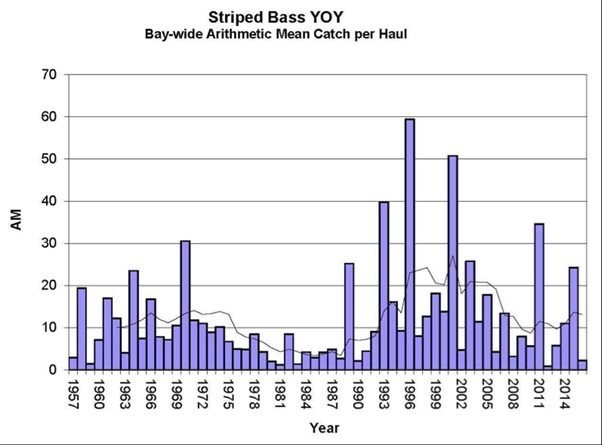 Stripers Forever recently sent an Action Alert to its members warning that Chesapeake Bay commercial interests are again demanding higher kill limits on striped bass.  They want to roll back the modest conservations measures put in place during 2013 and return to the harvest levels that contributed to coast-wide recreational catch declines of up to 90%. 
According to Stripers Forever president Brad Burns the decline in the recreational catch has cost multiple times as many jobs in the recreational fishery as all the commercial jobs that currently exist.   Burns states that stripers should be managed for the far more socio-economically valuable recreational fishery, and that means more fish left in the ocean not less.
The chart above shows that under the higher catch limits the Chesapeake Bay year classes have become progressively less consistent and that the trend line for spawning success is down. Burns also stated that the number of really large striped bass in the population is much smaller than in the early 2000s. That was why the catch limits were all reduced just 3 years ago, and we should never return to those harvest levels.
On May 9th the Striped Bass Board of the Atlantic States Marine Fishery Commission "ASMFC" will consider whether or not to send this request for a larger striper kill out to public hearing.  Stripers Forever is urging their members to contract their state's ASMFC representatives and request that they vote not approve this request. 
The Recent News section on the home page of the Stripers Forever website stripersforever.org has all the information on how to weigh in on this issue. 
For more information see the complete report under Recent News on the Stripers Forever website www.stripersforever.org or e-mail stripers@stripersforever.org. 
The post Chesapeake Bay Commercial Interests appeared first on ODU Magazine-North America's #1 Digital Fishing Magazine.