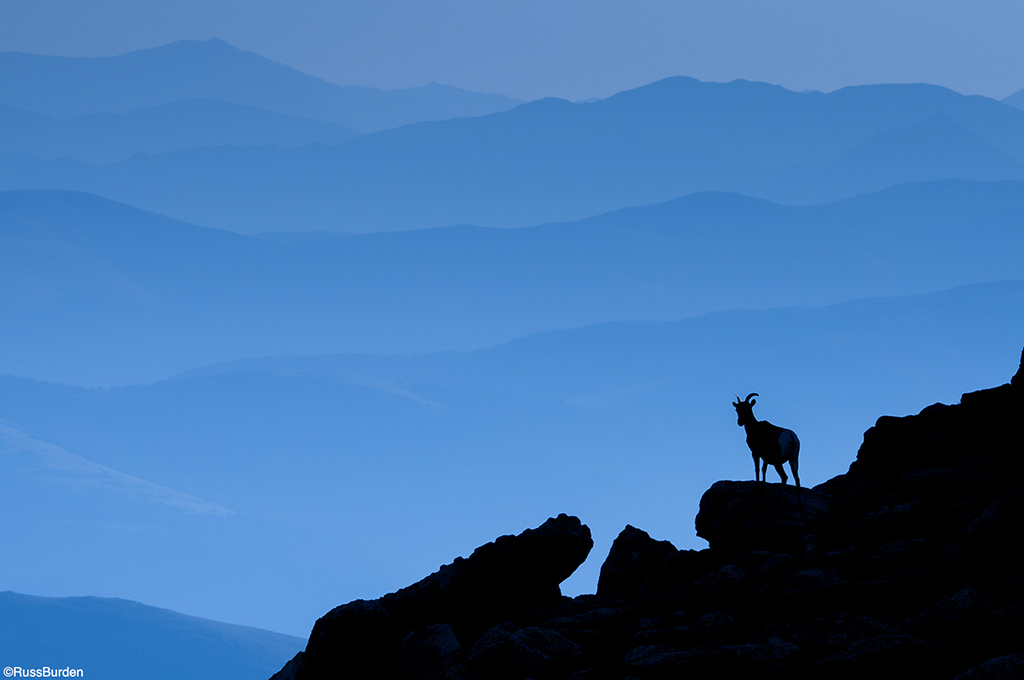 I love wildlife photography because there are so many factors that challenge the photographer to create a great image. The light, head angle, background, condition of the subject, behavior, mergers with others and more all have to fall into place to make the image a success. When it does, it makes all the hours of waiting, driving, enduring thick clouds and research worth every second. The thrill of seeing the shot that makes me stop hitting the right arrow on my computer and puts a smile on my face is what it's all about. To help you share the adrenalin rush that thrills me so you, too, can experience the same, apply what's below when you head out into the field.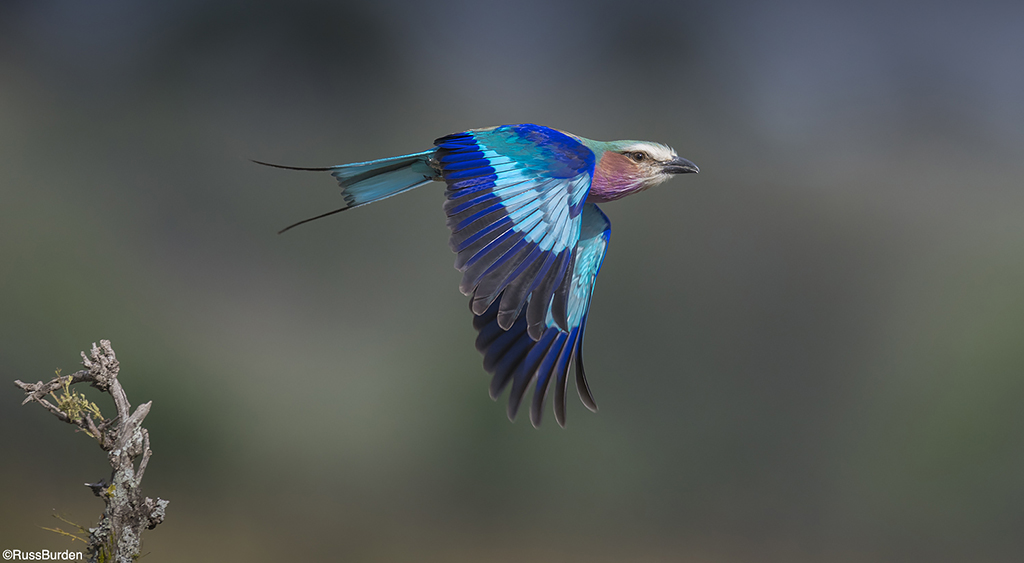 Create A Sense Of Place: If you've been a longtime reader of my OP Tips, you know one of my favorite business mottos—"Exhaust All Possibilities." In regard to sense of place, reach for your wide angle as opposed to your long lens to capture what shows the animal in its environment. I tell people who come on my photo tours or safaris to shoot every scene as a vertical, horizontal, wide and tight. The wide is what applies here. Show the environment as if you were to create a scenic and place the subject, albeit small in the frame, using the rule of thirds. In some cases, it produces an image with greater impact than the simple long lens portrait.
Depict Action Or Behavior: The first time you see whatever animal it is, your excitement level is high and the shutter sound echoes. Regardless of where it is or what the quality of light is that illuminates it, it's your BEST image of that subject. It's your PLACEHOLDER. As you encounter that species again, get more selective and try to up the quality of your placeholder. One way to do this is to wait for the subject to depict behavior or show action. The bird in flight or the yawning lion makes a more powerful photo than the one where it perches or sits. Be cognizant of your shutter speed as it needs to be high to arrest the movement. If necessary, raise your ISO or open your aperture to attain the necessary shutter to freeze the moment.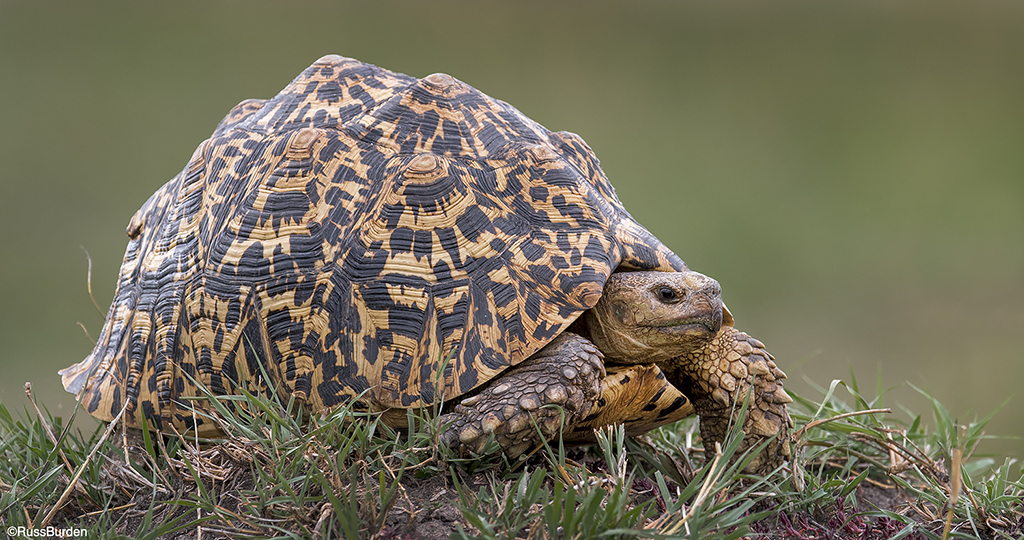 Get Down: Another one of my favorite business mottos is, "The Background is Equally as Important as the Subject." If the background is busy, it doesn't change based on the number of times you press the shutter. As badly as you WISH the background would magically morph into something less distracting, it won't. Be patient and wait for the subject to move to a different location. Sometimes it works and often it doesn't, but to keep pressing the shutter if the background is poor doesn't make sense: "Edit Before Pressing the Shutter" (another favorite business motto). One of the ways to obtain a less busy background is to get low on your belly. A lower vantage point can put the background farther away from the subject, which allows it to go more out of focus. An out-of-focus background works well as it allows the subject to stand out.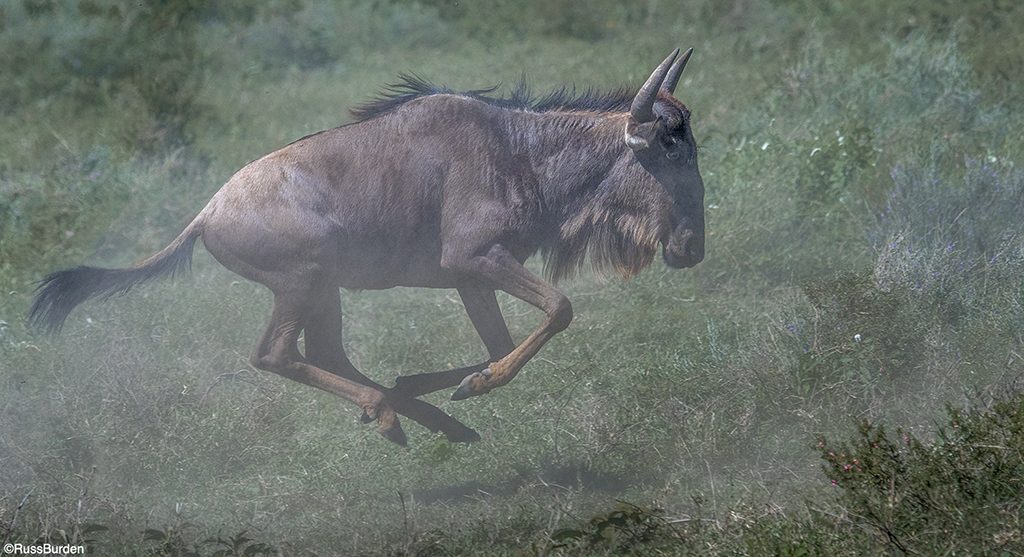 Run With It: As I mentioned above, an animal in motion makes for a more dynamic photo. In the photo of the wildebeest, if it was simply standing in an open field, it would be a recording of what a wildebeest looks like surrounded by green. For a textbook, this could be a great shot, but to raise the level of capture, it's more dynamic if it moves. When you encounter a running animal, stay on the shutter in that a fraction of a second is a long time that determines if one frame is better than all the others. With larger mammals, it's great to capture the moment when all four feet are off the ground. Set a high shutter speed and follow the movement of the subject. Once it gets past perpendicular, let go of the shutter as you'll be capturing butt shots. If more than one subject is running, keep at it. When you get home and begin to edit, I want you to share that adrenalin rush when it appears on your screen!
Visit www.russburdenphotography.com for information about his nature photography tours and safari to Tanzania.
The post Create Captivating Creature Captures appeared first on Outdoor Photographer.