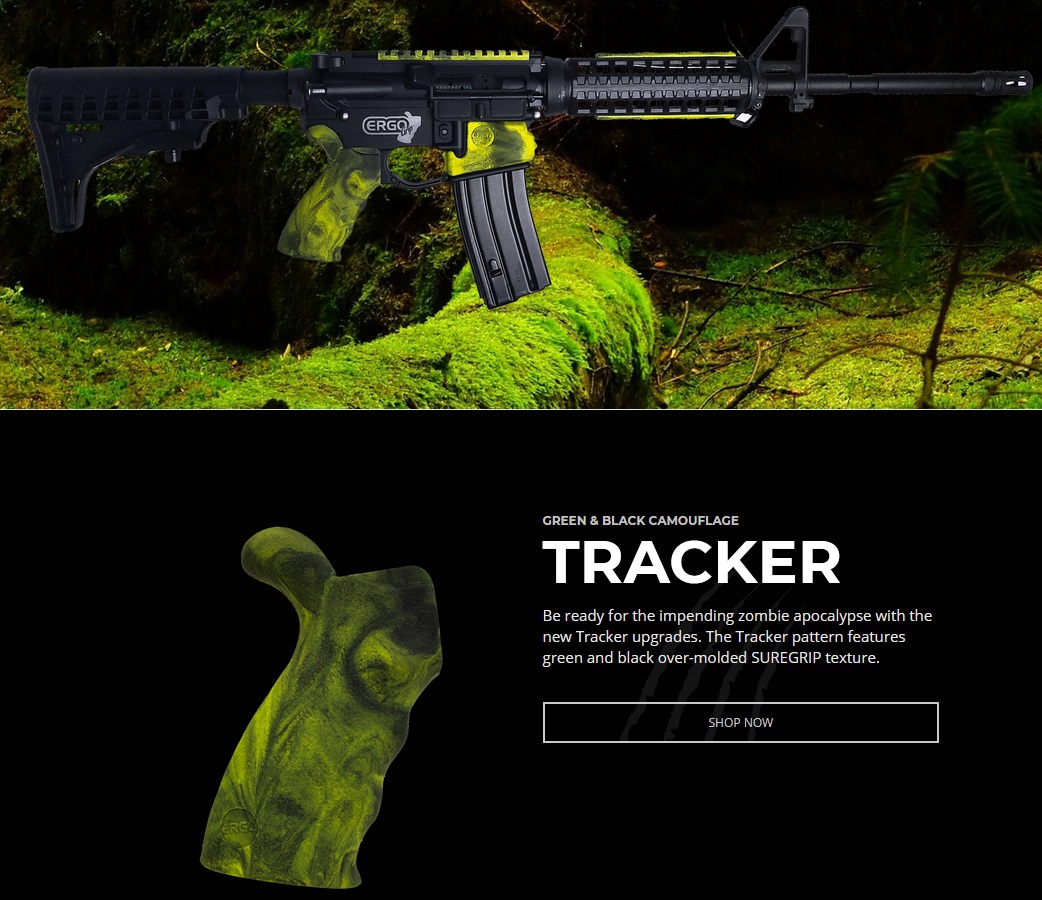 ERGO launches their Elite Series of Camo collection. A revolution in camouflage patterns come in seven distinct colors and are available for their ERGO 2 AR Grip, NeverQuit Magwell Grip, 18-Slot Ladder Rail Covers, and M-LOK Rail Covers. The creation process creates a different camouflage pattern for every grip, making each one unique.
ARCTIC
WHITE AND BLACK CAMOUFLAGE
Built to blend into the frozen lands of the north and help shooters mimic the snowy landscape. The Arctic pattern features white and black over-molded SUREGRIP texture.
PREDATOR
DARK EARTH & BLACK CAMOUFLAGE
Built to blend into wooded areas by mimicking the natural formation of sticks and grass in open areas. The Predator pattern features dark earth and black over-molded SUREGRIP texture.
TRACKER
GREEN & BLACK CAMOUFLAGE
Forest survival just got a little easier with upgrades to blend into the moss-covered floor. The Tracker pattern features green and black over-molded SUREGRIP texture.
IMPERIAL
PINK/PURPLE & BLACK CAMOUFLAGE
Be royal. The night sky is full of natural wonders – none more than the colors of an exploding star. These colors pay homage to one of the most powerful forces in the universe. The Imperial pattern features pink/purple and black over-molded SUREGRIP texture.
INFERNO
RED & BLACK CAMOUFLAGE
A pattern designed by blood in the fires of a long dead volcano and ready for attachment to your rifle. The Inferno pattern features red and black over-molded SUREGRIP texture.
COBALT
BLUE & BLACK CAMOUFLAGE
Cobalt blue took thousands of years to discover and we pay homage to the process with our new color. The Cobalt pattern features blue and black over-molded SUREGRIP texture.
TIGER
ORANGE AND BLACK CAMOUFLAGE
Savage and unrelenting, this blazing orange brings a bite to your custom rifle upgrades. The Tiger pattern features orange and black over-molded SUREGRIP texture.
Elite Series ERGO 2 AR Grip
The Elite Series of Camo ERGO 2 AR Grip is a competition ready, over-molded SUREGRIP that fits AR15/AR10 platforms. Built tough for use in the field, the SUREGRIP is virtually impervious to oils and solvents and provides a non-slip grip for the shooter's hand. An integrated rear upper extension supports the hand's natural webbing while the finger grooves provide a secure grip on your AR.
Elite Series 18-Slot Rail Cover (3-Pack)
ERGO LowPro Ladder Rail Covers protect unmounted rail areas from damage and shield the operator from sharp rail edges.
Elite Series M-LOK Rail Cover (4-Pack)
Slot covers fill in M-LOK slots to add additional grip. Santoprene Construction/Heat Resistant. Positive non-slip gripping surface. Low profile with aggressive texture.
Elite Series NeverQuit Magwell Grip
The ERGO Never Quit Magwell Grip reconfigures the squared shape of the AR/M4 magazine well to provide a gripping surface for additional control.
Save 20% off instantly by signing up for ERGO's newsletter.
Visit ERGO's website https://www.ergogrips.net/elite-series-camo/ to learn more.
Based in Moriarty, New Mexico, ERGO develops and manufactures small arms accessories for civilian, law enforcement, and military use worldwide with the goal to provide all shooters with the finest firearm accessories available. ERGO products are designed for the most important part of the firearm: THE shooter.
The post ERGO Elite Series Camo appeared first on ODU Magazine-North America's #1 Digital Fishing Magazine.