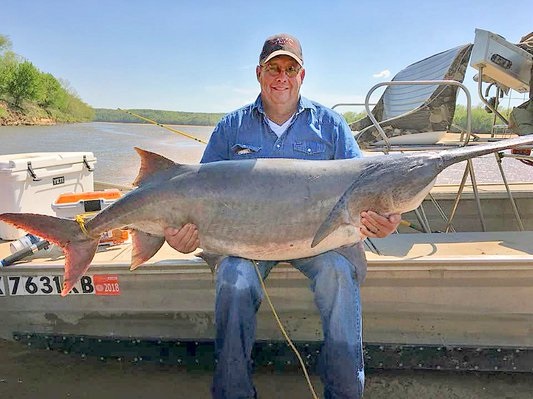 A man who snagged his first paddlefish ever is now in the record books! Larry Morphew caught the paddlefish in the Arkansas River above Lake Keystone on April 29.
After being checked, Morphew's monster was released back into the river near Blackburn.
The Oklahoma Department of Wildlife Conservation has certified it as the new rod-and-reel state record at 132 pounds, 8 ounces.
Morphew said this was his first paddlefishing trip, his first paddlefish catch ever, and he snagged it on his first cast of the day.
For record fish, the length of a paddlefish is measured from the eye to the fork in the tail. Officially, the length of the fish was 65 inches (a little more than 5 feet), and the girth was 39 inches (a little more than 3 feet).
The previous rod-and-reel state-record paddlefish was caught in the Arkansas River in April 2011 by Aaron Stone of Pawhuska. It weighed 125 pounds 7 ounces.
Charles Ham of Grove still holds the state record for the largest paddlefish caught and reported in Oklahoma. His unrestricted division state-record fish weighed 134 pounds when he snagged it on a trotline in Grand Lake in August 1992.
The post Oklahoma Man Snags New State Record Paddlefish appeared first on .