by James Marshall
Special to Outdoor Enthusiast Lifestyle Magazine
It snows where I live and I don't mind. There's an old saying that I just made up that goes, "Winter is a lot of fun with the right toys."
My favorite and arguably most universal toy to enjoy winter with is a good pair of snowshoes. They're favorites because with them I can do everything from climb a snowy mountain to walk across a frozen, snow-covered pond. They're universal because, as another old saying goes, which I did not just make up, "If you can walk, you can snowshoe."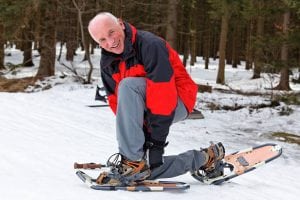 All snowshoes work under the same basic principle: they displace our weight over a surface larger than the soles of our shoes. By displacing our weight over that larger surface, we achieve, to varying extents, "flotation" on the snow. This is why snowshoes are sized by the total approximate weight of the snowshoer.
Historically there have been three primary components to every snowshoe: frame, decking and binding. For the last several ions, snowshoes have had wooden frames, a woven decking made from animal hide and bindings made from rope or hide. Wooden snowshoes are still made and used today but mostly appeal to the traditionalists amongst us.
Modern snowshoes are built without any wood and use a more efficient solid decking, which allows for similar flotation over a smaller footprint-no pun intended-than the traditional wooden shoes with woven deckings. This allows for a more narrow, natural stride for us bipeds. Snowshoes with an aluminum frame and a solid, durable synthetic material attached as the decking have been around for over three decades now. Made from a molded high impact plastic or similar material, thereby eliminating the need for a "frame", have become more common over the last decade or more.
To choose the right snowshoes for your own winter fun, first consider the type of snow and terrain that you hope or expect to experience. A good rule of thumb is to buy as much snowshoe as might ever need. You can always hike on the valley floor in snowshoes made for the mountains, but you don't want to try the mountains in snowshoes designed for the valley floor. Regardless, even the most recreational snowshoes made today will have more traction than your grandfather's bent ash framed snowshoes ever had.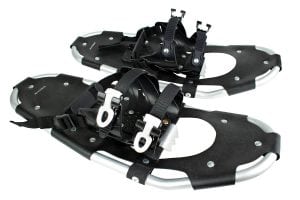 When sizing your snowshoes, note the generous overlap in recommended (snowshoer) weights between the sizes. Proper sizing is necessarily based on your total weight, with any gear being carried factored in. Also consider your expected snow conditions, i.e. deep and soft, hard-pack or variations of both and your priority between flotation and maneuverability. A larger snowshoe will better float whatever weight you put on it while a smaller snowshoe will prove more maneuverable and easier to use, though with less flotation. If you expect to be regularly breaking deep, unbroken snow, go with the larger size. If you will be more regularly on packed snow, such as popular local trails and snowmobile tracks or navigating through a thicker wood, it's okay to go with the smaller option.
Binding technology, has also improved exponentially in the modern age. Today's bindings come in numerous forms, but all generally offer differing degrees of better lateral support, snowshoe control and more aggressive traction than the bindings of old. Most snowshoe bindings will accommodate a wide range of shoe sizes; try to be sure that the boots you will be snowshoeing in will allow for a secure fit in the bindings before buying. This is especially important if you have especially small or large feet. Regardless, check the return policy before buying. You may need to use them in the field to know a pair of snowshoes is not right for your or your end-uses.
Poles are, strictly speaking, not required to snowshoe. However, they are highly recommended in almost all recreational and expeditionary situations. Poles provide much added stability; giving you four points of contact instead of just two, while walking on an inherently unstable surface (snow). Poles help because you can lean into them when hiking uphill, use them as brakes on the downhill and lean on them when you are winded. Poling also makes better use of your upper body strength, sparing your back, legs and knees much extra work.
Adjustable poles are the best option to buy. The best length to set them at will be determined by conditions, terrain and personal preferences. These are as likely to change from trek to trek and even during any single walk you are on. If you do use a pole of a fixed length, look for one that that comes up to you, from the floor, to roughly between the armpit and top of your shoulder.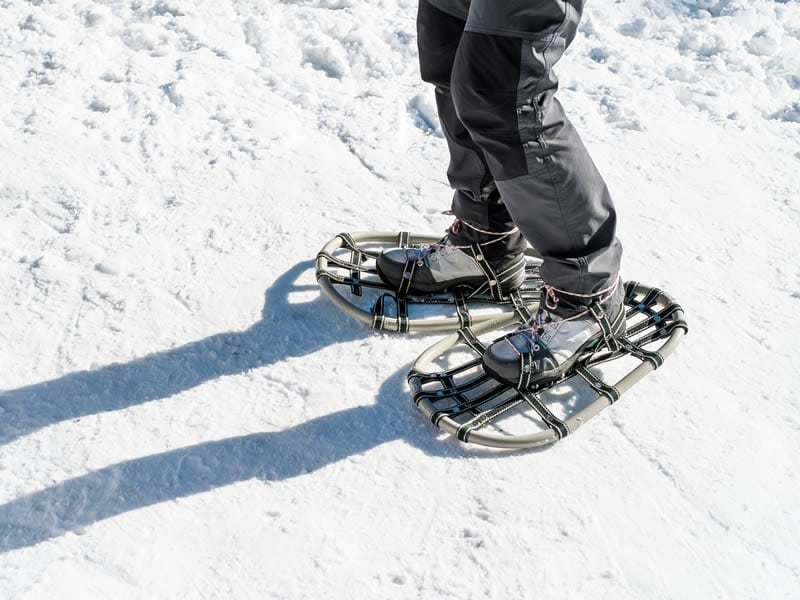 As to proper footwear, you can, in theory, snowshoe in your bunny slippers, but I do not generally recommend it most of the time. A supportive hiking or hunting style of boot is generally best. Lightly insulated boots (i.e.200-400 gr. of synthetic) will be as much as most people need in anything short of Arctic conditions, if you keep moving. Heavy winter boots, pac boots for example, while extra warm are not recommended. If a boot is heavy and clunky to walk in, it is even more heavy and clunky to snowshoe in. Men with larger shoe sizes may also find that a bulkier boot will not fit into a lot of bindings.
Outfit yourself properly for Winter and you will look forward to snowfall. Getting out and enjoying the outdoors during Winter helps keep you in shape both physically and mentally. Snowshoeing is better than a gym, cheaper than therapy, almost never crowded and a great way that nearly anybody can enjoy the outdoors when there's snow.
"Remember, if you get cold, hike faster. Preferably uphill." Anonymous
jm
---
The writer recently spent 25 years working for a major outfitter accumulating gear while helping people outfit for the outdoors with gear of their own. He has yet to spend his whole life in Maine, but plans to.