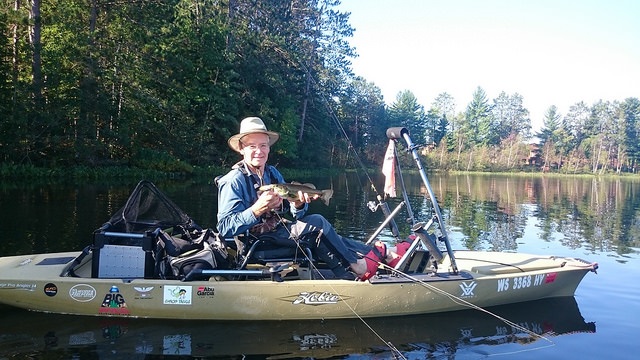 This week, Dan Small Outdoors Radio features retired DNR wildlife biologist Dick Nikolai, Mercer Chamber of Commerce executive director Beth Wetzler, charter captain "Dumper" Dan Welsch and McFarland guide Ron Barefield. Dan fishes lakes Winnebago and Mendota. Jeff reports on last weekend's Mercury National Walleye Tournament on Lake Winnebago.
In the Hupy and Abraham Outdoor Report, retired Wisconsin DNR wildlife biologist Dick Nikolai invites listeners to the 9th annual Wisconsin MartinFest, a celebration of purple martins, June 30th at Marsh Haven Nature Center, located at W10145 Highway 49, east of Waupun. (www.wisconsinpurplemartins.com, www.marshhaven.org, www.hupy.com)  
Beth Wetzler, executive director of the Mercer Area Chamber of Commerce, announces the 4th annual Can-Yak canoe & kayak fishing contest, June 30th and July 1st, headquartered at the Great Northern Hotel in Mercer. (www.can-yak.com, www.mercercc.com, http://greatnorthernmercer.com/)
Capt. Dan Welsch reports on great action for big king salmon and lake trout on Lake Michigan off Sheboygan. (www.dumperdan.com, http://slysmidtown.com/)
In the Fisher King Winery Madison Outdoors Report, McFarland guide Ron Barefield reports phenomenal bass and walleye action on Lake Mendota and good panfish action throughout the Madison chain. (www.fisherkingwinery.com)
Contact: Dan Small at 414-588-4082 or dan@dansmalloutdoors.com
The post This week on the Dan Small Show 6-14-2018 appeared first on .